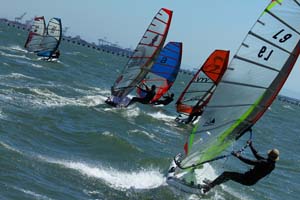 Select your dates and fleet below
A Fleet: Accomplished racers and prior B fleet winners. B Fleet: Beginning and intermediate racers. Note: New CalCup racers: If you have prior windsurfing racing experience, you can request placement in a fleet that you think is appropriate for you by sending your sailing resume to us or bringing it with you on your first race day. If you request fleet placement, you may be required to qualify by going out on a sail with a CalCup committee member.
---
In order to participate in the California Cup Series, you must read and agree to the terms below:

I AM AWARE THAT SAILBOARDING IS A HAZARDOUS ACTIVITY AND I AM VOLUNTARILY PARTICIPATING IN THIS ACTIVITY WITH KNOWLEDGE OF THE DANGERS INVOLVED. In consideration of my participation in the California Cup Races, I, the undersigned, on behalf of my heirs, legatees, personal representatives and all those claiming by or through me, agree and consent to the following: 1) I shall have the sole and exclusive control and management of the sailboard/s I use during this series. 2) I shall be solely and fully responsible for the control, care and safety of such sailboard. I hereby discharge, release and forever hold harmless the Berkeley Yacht Club, the San Francisco Boardsailing Association, the United States Windsurfing Association, RegattaLog.com, the USSailing Association, Hanson Sails, Delta Windsurf Company, the California Cup Committee (the "sponsors") and all its members, agents, employees, servants and representatives from any and all claims, actions, losses, damages or expenses for personal or bodily injury (including death) and property loss or damage of whatever the nature of cause incurred by me or arising out or in any way connected with my participation in the California Cup Series. I release or agree not to sue the Sponsors, or directly or indirectly, cause to be brought any legal or judicial proceeding against the Sponsors which could be constructed to be in any way connected with, as a result of, my association with or participation in the California Cup.